Posts Tagged: Tiny Prints
---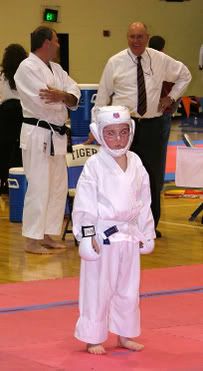 I can still smell the sweaty air of the gym room where the competition was being held.  He had been preparing for months to enter the sparring ring, and while he prepared I tried to put it out of my mind that I could not be in that ring with him to defend him from round house kicks or punches.  With each minute that passed my heart would jump up into my throat.  Sitting on the edge of my seat I surely worried that he would be hurt.  Ultimately, I knew that he would be all right.  I knew that no matter what this was the beginning of letting go.   And, his success was dependent upon my ability to let go, watch from the side lines, and be there when it was all said and done.
He looked so small amidst all the players.  He was my oldest, but he was still a baby to me.  Do they ever become anything other than your baby?   I don't think so, but, regardless, you still have to let go.
A few weeks ago I felt the same way when I dropped him off at the day-long air-soft playing field.  I looked around at all the other "boys", and they seemed so much bigger that my new teenage boy.   What was I doing dropping him off to run around while little plastic bb's were shot at him?
"You reeeeeeeally like this, Mikey?"

"Yes, Mama, I reeeeeeeeally like it.  Don't worry, I'll be fine."

"But, but, but, they look so big.  And, they have knee pads.  Do you need knee pads?"

"Mama, I'm fine without knee pads.  I'm fine.  I'll be fine."

"Well, I guess I should go now.  Be careful."

"Yes, Mama, you should go now.  I'll be careful."

"Can I hug you?"

"Not right now."

"Ok. I love you."

"Yeah, me too, Mama."
Recently I was asked, "What has been the most surprising thing about motherhood?"
That answer's simple….the most surprising thing is how easy (albeit bittersweet) it has been to let go the older the kids get.
I could tell so many stories about letting go, and the fear that's associated with it.   Though it's been really astounding to me how easy it's been, there is always this stomach churning fear, right before the actual act of letting go.  But, being the mother to four children (who aren't staying babies, even though I have begged and pleaded with them not to grow up so fast) means that I have to let them go.  I have to let them make mistakes.  I have to let them get hurt.  I have to let them find their own way in the world.
With every frustrating, hair-pulling, gut-wrenching day that passes, they learn something, and I have complete faith, that no matter what, they will step one foot in front of the other and make the right choices in their lives.  Whether it's in a sparring ring, an air-soft field, "walking like a big-boy" in Wal-mart, at a sleepover at a friend's house, or walking to the library my Mama instinct tells me that they will do the right thing.   That? Makes it easy (read: easier) to let go.  Plus, they know that I'm always there for them, no matter where life takes them.


What's been the most surprising thing–about motherhood--to you?
---
This post is part of a four part sponsored Tiny Prints Mother's Day campaign.  Tiny Prints has Mother's Day cards that are fully customizable, and can be sent straight to the recipient.  For someone, such as myself, who always forgets to send out cards on time, this new service that Tiny Prints is offering is just awesome.  You can schedule your cards or gifts to go out, letting all the mothers in your life know how special they are, and how much you treasure them!  Stay tuned for more of my reflections on motherhood.
---